Greetings from my wife Michelle and me.
During the mid 80's and early 90's I was working full time at various landscape companies around the Fox Valley. I enjoyed the work tremendously and realized early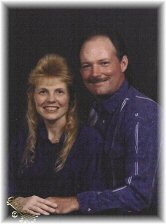 that I was artistically gifted in the ability to visualize elaborate landscapes. The ideas I shared with my boss' were being implemented on almost every jobsite. I mentioned this to some family members who suggested that I should start a business of my own. Because I never really saw myself as a business owner and financially wasn't in any position to start one, I didn't give it much thought at first.
The number one reason for starting Desertscape? QUALITY. For the companies I was working for, quantity not quality seemed to be their major motivation. Because important details were continually being overlooked I no longer felt good about the work I was doing and thought the customer deserved better. After some time, I realized if I was ever going to be able to give the quality and attention to details I felt was necessary, starting my own company was inevitable.
Why a name like Desert Scape :
During the late 80's I had a friend whose father's front yard was completely planted with cacti and other succulents, no grass at all. It looked very nice and best of all it was located in Appleton, WI. At first I thought he must be crazy having to go thru the work of moving all those plants every year because of winter. How ignorant I was. All but a few plants were taken inside, the rest remained outside in the ground throughout winter. I've always had a fascination for cacti. How a plant can be so harsh and unusual looking, yet be unsurpassed in beauty while in bloom is a mystery. After extensive research on the succulent families I learned there were hundreds of succulent plants and hundreds more plants with drought tolerant characteristics to create a southwestern feel to landscapes right here in the upper Midwest. The idea struck me and in 1992 Desertscape was born. Now granted, a southwestern looking landscape is not for everyone and it is a small percentage of that style of landscaping we do. But every landscape deserves to use xeriscape principles. Why? Because it is a major cost savings and you will spend less time maintaining it, allowing more time to enjoy the outdoors with family and friends, think of it as an insurance plan for your yard.
If I were to sum up why we are in business I would say: I want to give you what I would want in a landscape. I want the best quality of products available. I want the smallest of details applied so I don't have problems later. I want qualified people working on my property who care about what they are doing. I want someone knowledgeable in up-to-date landscape information and practices. I want a low maintenance landscape. I want to be treated as you would like to be treated, and that is what we will give you.
My promise.
Bryan